An Open Standard
As the P2P lending Community grows there is going to be an increased need accessing organized data. Developing a meaningful format for data will require a few key elements:
Core metrics
Flexible
Relational
Core Metrics
There are some core commonalities between all loans. Interest, amount and term are probably the most important. Core metrics are considered data elements that every loan must have regardless of platform. Some examples are loan amount, percent funded by investors, grade, interest rate, term, origination date, application date and modification date.
Beyond that, we want to know how to assess the risk of the loan and derive meaningful data. In an ideal world the interest rate would perfectly reflect the risk. However, we are not in that world. Part of understanding these inefficiencies started with the pioneering work of LendStats.com. In an effort to augment this work, Nickel Steamroller has developed an open standard based on XML for P2P lending so that the community can start to examine platform data themselves.
Flexible
Not all platforms will collect the same data in their application/underwriting process. A result the export format needs to be flexible.  Part of the specification calls for a "Meta" tag that allows any free-form data to be entered that doesn't fit into the core metrics. This will allow data like borrowers profession, or other data to be stored.
Relational
Most data in real life has relationships, and P2P lending is no different. The Lending Club exports are you know are very "flat", meaning there is no relational data.  The simplest example of a relation in terms of P2P lending is payment history. Many payment events can be related back to one loan. XML has the capacity to do this well, which is why it was chosen.  The P2PXML specification fully supports payment history, which Prosper provides.
The specification is still in draft format. It will be subject to many changes as a result of your input. It's a design goal to build a format that will be robust and platform agnostic, with the P2P lending community I believe we can.
Sneak Preview Screenshots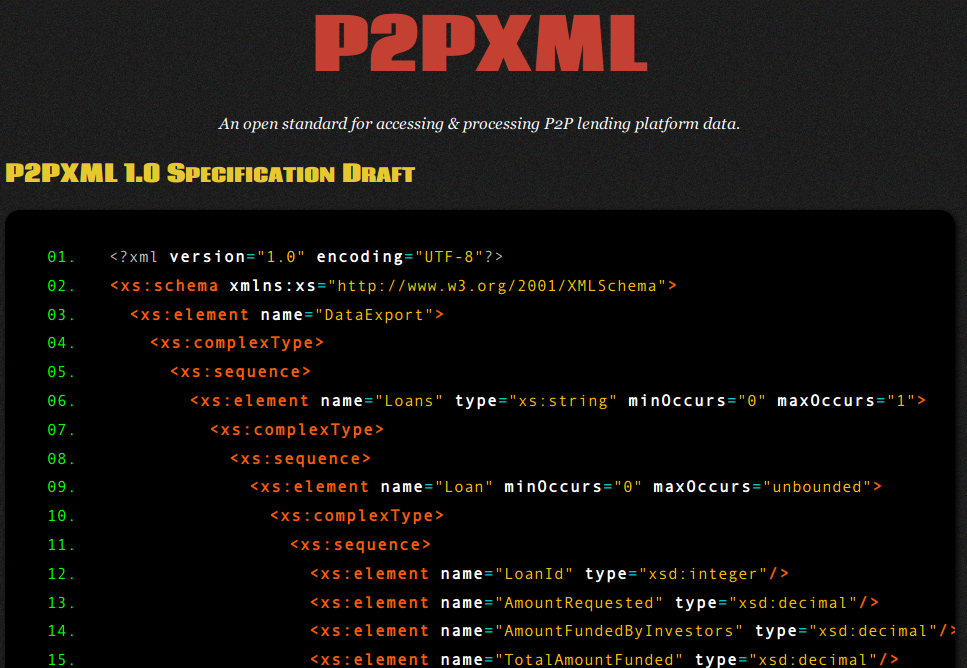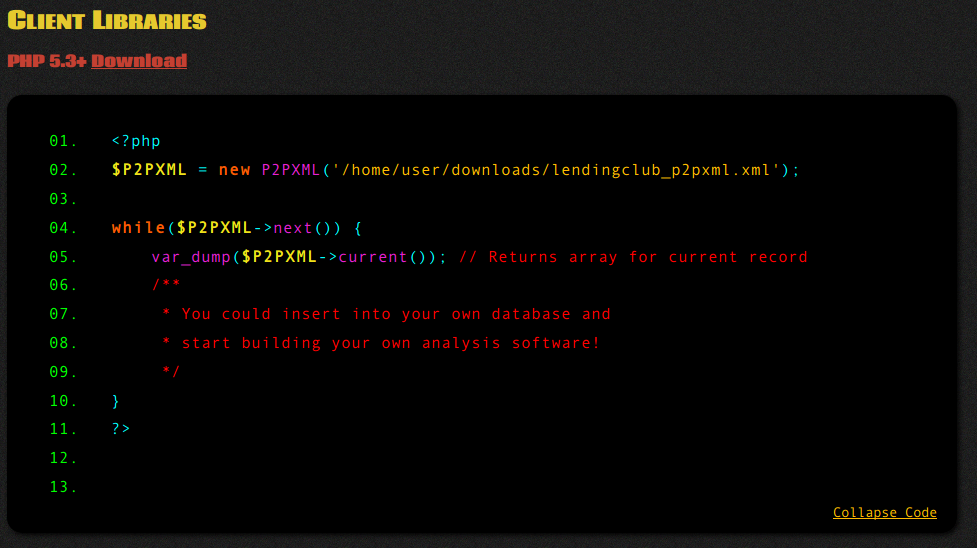 Sample Data / Launch Date
I've placed a sample export online of the first 1,000 records from Lending Club's platform (Sans meta data for now). Feel free to download it and take a look. P2pxml.com should be launched in March with full support for both platforms and a few client libraries for developers who wish to start using the data.