Buying Only 60 Month Notes? Consider This…
I suspect many P2P investors indiscriminately invest in 36 or 60 month loans. I know when I started out I took whatever showed up in the loan search results (literally) and didn't pay much attention to loan term. Most people know that 60 month loans pay a higher interest rate. The higher interest rate is to reflect the additional time you have to put your money at risk. I took this understanding and then started to focus pretty much exclusively on 60 month notes to get higher return rates. As of today about 76% of my portfolio is 60 month notes. This fact and the fact that 95% percent of my late or defaulted notes are 60 month prompted me to take a very close look at 60 month loans.
Within a loan grade, take 60 month E for instance, E1 will have the highest markup and it will decrease until E5. This pattern persists for all loan grades except for A. You actually receive no additional interest for buying 60 month A grade notes. I went to Lending Club's website and browsed all 60 month notes. I then recorded all of the interest rates for the loans and the spread (this is not available on the export). I put this into a chart and actually saw something very interesting…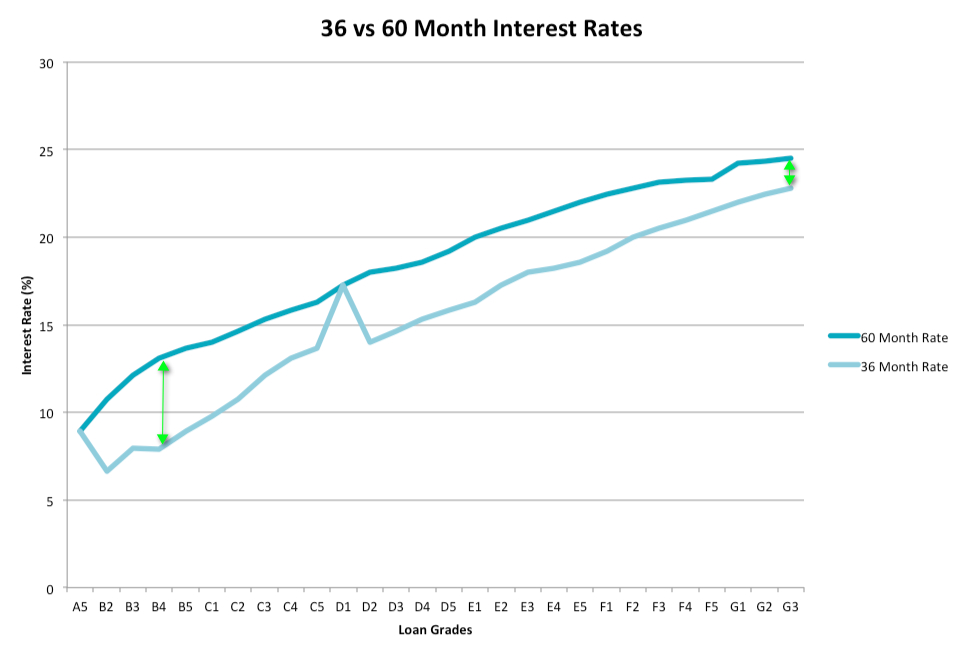 As the risk of loan increases for 60 month loans the spread decreases compared to 36 month loans. So in essence the best "bang for your buck" 60 month loans are B1, C1, D1, E1, F1 and G1 in that exact order.  If you see the spike for D1 there was actually no spread on the currently listings. There was only one D1 on the system (Member Loan ID 1333671). Not sure why this was.
As you can clearly see the reward decreases as the risk increased with 60 month loans. I'm not an investment professional but I would think this spread should be relatively static. I'm curious to hear your thoughts.
I'm still not 100% why all of my underperforming notes seem to be 60 month notes. Granted 76% percent of my portfolio is 60 month, I would still except more of the notes to be 36 month considering the monthly payment on 5 year loans will be less. Going forward my new core strategy will be to be 50/50 36 and 60 month notes. Right now my allocation is off by about 24% so it will take some time to rebalance.
Curious What Your Allocation Is?
There are two ways to do this. 1.) Nickel Steamroller has just added this to the portfolio analyzer.  2.) You can also find this information in lending club under your portfolio break down:

Data Source
[table id=6 /]