Thus far, Lending Club and Prosper 2.0 have produced some outstanding returns. When people use tools like Nickel Steamroller's Return Forecaster they can see deterministically that taking on more risk will produce higher returns with a good degree of confidence.  Risk determines reward. But what would happen in a mass default situation?  What if a majority of borrowers suddenly had trouble repaying loans?
You don't have to go far to see financially distressing scenarios can impact entire countries in short periods of time. In fact, just this last year Greece, Spain, Italy and to a degree France have all experienced varying degrees of financial instability. When people with debt have to consider what to "default on", an unsecured loan will be the first to face non-repayment. Typically the order of default will go something like this.
Unsecured Loan: Borrower walks away with little consequence (recovery rates on this are virtually negligible)
Unsecured Credit Card Debt: Borrower foregoes access to future debt
Mortgage: Borrower will rent
Auto: Borrower gives up personal transportation, this is usually the last thing to go
Although there is currently no apples-to-apples way to compared credit card defaults to P2P loans, you can infer your own conclusion with the following chart which is based on S&P/Experian's default indices. Credit cards give you the ability to take on additional debt in the future, while a loan does not.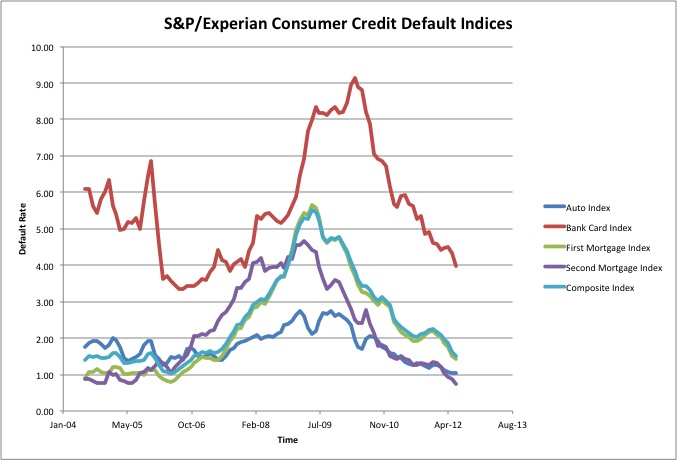 During the height of the financial turmoil that occurred in 2008 A grade loans performed the best, producing ~+4.0% returns. F grade loans which are currently the best returning loans, returned (-3.85)% annualized for those issued in 2008.
If you are an investor that isolates lower grade notes, it would be wise to hedge your P2P portfolio with at least 5% A grade notes and 10% B. To my knowledge nothing like a credit default swap exists at this point for P2P lending so best things you can do lessen impact from a mass default scenario is incorporate higher grade loans into your investment strategy. Of course this will lower your ROI.  But, don't expect a 5% drop or even close. A/B loans do incredibly well, and in the case of 2008 – the closest situation we've had to a mass default situation – they performed very well.