Lending Club
From my last update I had mentioned my Lending Club account was expecting a a number of defaults to happen, and it has started.  My ROI has dropped about 1.8% after three new defaults.  At this point I am projecting my ROI to drop down to about 10% and then start to build back up, probably hovering around 11-12%.  My portfolio strategy is focused on more risk, so I will get the high returns to offset loss (hopefully). I did notice that 95% of my notes that are defaulted or late are 60 month notes.
Regardless, 10% is a staggering return for something that is relatively predictable. I continue to be very happy with Lending Club's performance overall.
Of course running my portfolio through the NSR portfolio analyzer gives us a little more insight into what is actually happening.

One feature I think is great over at Prosper is their promotion of a "seasoned ROI".  A seasoned ROI only takes in to account loans that are 10 months or older. They do this because Prosper feels that is the point at which loans start to stabilize.  The NSR portfolio analyzer allows us to simulate this with date filtering so we can get a more apples to apples comparison to Prosper's seasoned loans.

The way to read this is every loan I own that is older than 10 months is producing 9.96%  annually. Now when I started out in P2P lending I bought a lot of A and B loans which are in this loan population. After I while I shifted to C-D and then from C-F so I expect this number to rise a little or at lease stay the same as time goes on.  Compare this to this historical S&P 500 returns!
Prosper
Lately I have been absolutely hooked on Prosper's platform. I love the clarity into their data and the auto-invest feature.  In the last month I put another $2,000 dollars into my Prosper account.  I have a pretty strict loan investment strategy so it can take some time to invest money.  With Prosper I know my money is always working at hard as it can, when I have idle money it is automatically invested (if notes are available). I don't advise a set it and forget it strategy but it does make life easier.  I normally have to login to Lending Club almost every 2 days or so to check for idle cash. It's a mild annoyance but a very small price to pay for predictability and great returns.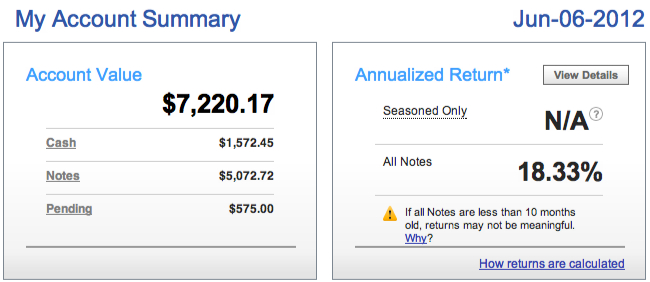 My Prosper account currently has 6 late loans, and 3 of those will mostly definitely default since they are in collections or related to bankruptcy.
I'm really excited to see how these investments continue to perform. One word of advice to investor just starting out, it will take a year to really start to see a trend in your portfolio, and even then at year 2 you will probably then be able to accurately assess your investment strategy.