Lending Club has recently introduced a new feature that allows investors to model their returns much like NSR's Portfolio Analyzer and Forecasting Tool. I never thought this type of return forecasting would make it into either platform but I am very happy to see this. I believe this method of looking at returns is one of the most accurate available. Prosper uses a different method called "seasoned loans" which simply excludes loans that have not yet reached an age of 10 months. Both of these techniques are used to address the issue to that non-performing notes take up to 4 months to impact your ROI.
The key difference is the Lending Club approach will start discounting loans immediately (upon status change), smoothing out returns and providing greater insight to your ROI.
Below is a screenshot from the new feature, as you can see it allows investor to tweak their loan loss rates. According to Lending Club the loss rates are based on "the estimated charge off rate for each loan status over the next 9 months, which is based on historical loan performance." So you may find the estimated losses to be a little optimistic.   Lending Club let's you to enter your own loss rates which allows you to set your loss rates to anything you feel is appropriate.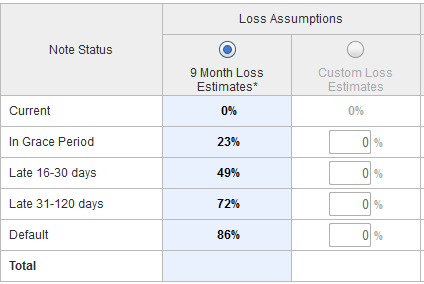 Lending Club's loss rates are across all loans, so if you invest in only A-B grade notes you should be able to bias the loss rates down. Likewise if you buy notes that are north of 20% you may find you have to adjust the values up. Over all, their loss factors will give a much more accurate number for returns than what is currently promoted as your ROI.  This is a great feature to add to Lending Club on top of their recent changes to the secondary market.