Firstly, I realize I have not posted for a while. It's not because I've given up on P2P lending. Quite the opposite. I've never had higher confidence!  I am working on a large side project that consumes much of my free time and I am also taking some classes so time is limited. That will change at the end of May though. I wanted to do a quick update on my P2P lending accounts to let you know how they are doing.
I've now been investing in Lending Club for a little over a year now. Recall that I started out with about $2,000 and as I built confidence I added more cash. So my total interest paid might not be the most reflective of performance, but the ROI is.
Lending Club
My Lending Club has performed over 12% for a year. Pretty amazing results when you look at all the uncertainty in the equities market this last year.  There are currently 11 late notes which surprised me because they all seems to show up at the same time. Once most of these default (they will most likely default) I suspect my ROI will be knocked down to about 10.5%. Still not bad when you consider the 200 year average for the S&P 500.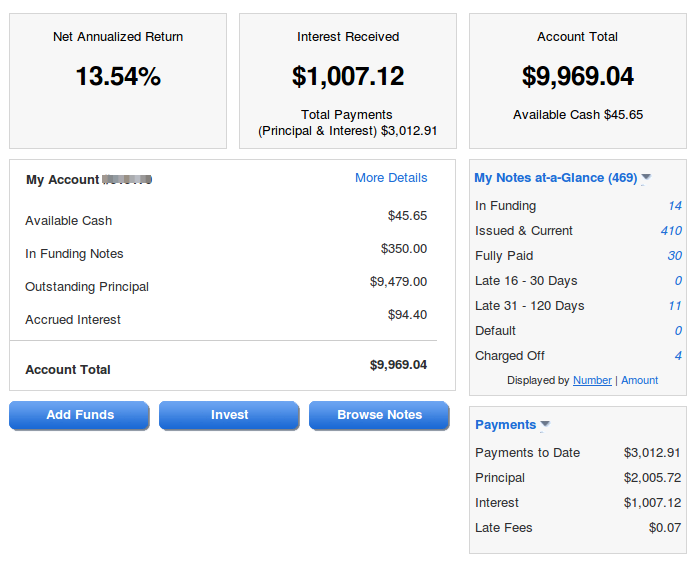 I used the Portfolio Analyzer on NSR to discount the late loans and get a better idea of what my ROI will be after the defaults. The Portfolio Analyzer will see how late your notes are and "guess" just how much you can expect to lose once the defaults happen.
Over all I am still very pleased with Lending Club after one year. As an investment it's been rewarding not to mention low in volatility.
Prosper
My Prosper account has been an absolute delight. The automatic investment is by far my favorite feature. I simply dialed in my filter settings using LendStats and let it go. As you can see my results are quit impressive. I would say my portfolio is about 5 months old so it's still young. I have a pretty good mix of risk. I do not buy A or B loans on Lending Club, but on Prosper the interest rates are high enough on A and B that I do buy some, but as you can see D grade have the largest share of my portfolio. I'm currently earning 19.27% and continue to add more and more cash. My goal is to have 20K in P2P lending by the end of 2012.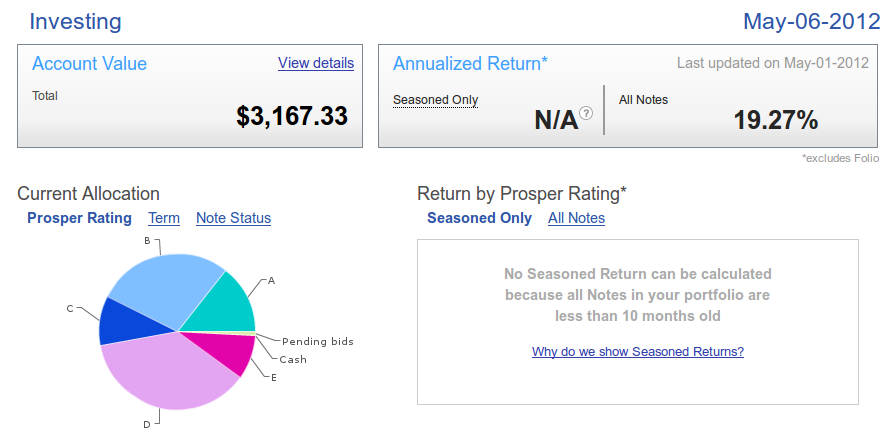 I do have some new Prosper features coming out on NSR shortly. I hope that once things slow down I can spend some time adding more innovation to the platform to help everyone investing in P2P lending gain more confidence.
Other High Yield Bond Options
I am currently taking profit (where I can) with my stock portfolio and buying bond ETFs. I've grown very annoyed with the constant mood swings the stock market is offering.  If you have a chance take a look at JNK which is paying 7% monthly. It behaves a lot like P2P lending with some added liquidity. It's also not as susceptible to the mood swings compared to the over all market (look at last Friday compared to the DJIA).  I'm going to start talking a little more about high risk bond funds as well. I do believe they can perform as well as the stock market over longer period and also lower portfolio volatility significantly.