Account Tracking
One feature that doesn't exist for P2P investors is a way to track your account balance visually. There are two web applications, Mint.com and Yodlee that support the major P2P platforms and offer some augmented visualization techniques of your portfolio.
Mint.com
Mint.com offers support for both Lending Club and Prosper. But the two are setup very differently. With Lending Club they simply mirror your account balance. When you attempt to look at the historical performance or transactions, there is nothing. As a result there is no chart history that can be graphed. Prosper on the other hand supports Mint.com beautifully. You have complete transparency into how your account is performing and the transactions. In a way Prosper on Mint.com acts just like your checking account, you will see debits and credits.
Warning! Sometimes Mint.com will stop working for an account for no apparent reason. Many people recommend deleting and re-adding the account to "fix" it. Only use this as a last resort because it will wipe out all transaction history which can not be reconstructed. In many cases if you wait a few days the account will start to sync again.
Lending Club on Mint.com
As you can see there is nothing here in the ledger. Notice how the fees are zero. It'd be great to see how much money was spent in servicing fees here.
Prosper on Mint.com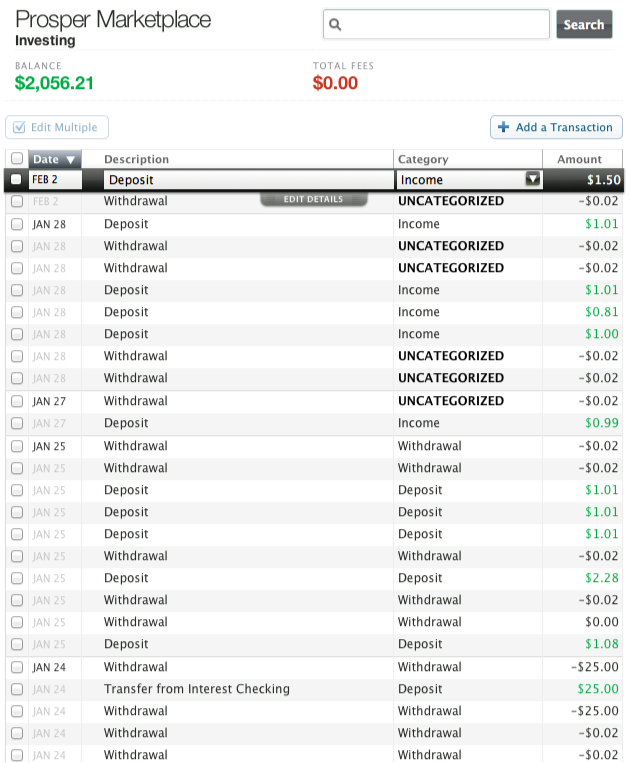 Mint.com doesn't do it perfect, but this is great to see! Notice the uncategorized withdrawal. But its very complete. The "Transfer from Interest Checking" is mislabeled and is actually a note purchase. These can be renamed though. What you are seeing is when you buy a note, the amount is debited from your account, and when it's issued the account is credited (green) the money. It's a zero sum. In addition you will see payments of $0.01 – $0.02 cent withdrawals for service fees.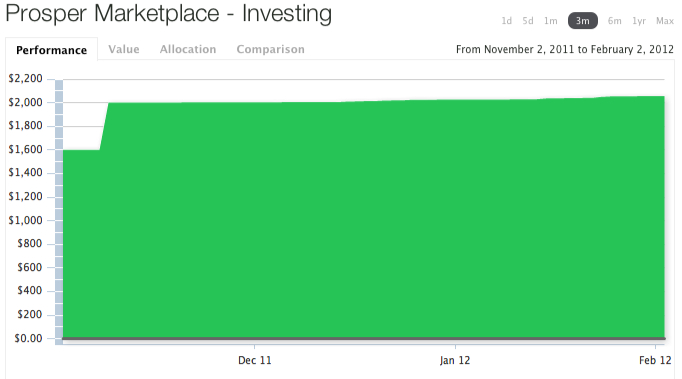 Notice the slight curve for my Prosper account? This is interest building. What is absolutely stunning is the complete lack of volatility, although you see where I made a 400 dollar deposit in November. (Unfortunately a comparable chart doesn't exist for Lending Club.)
Yodlee
Yodlee is actually the platform that Mint.com is built on. Believe or not everything you see in your Mint.com account related to balances is from Yodlee. Intuit's focus is making an interface simple enough for everyone (and plastering offers everywhere). Yodlee on the other hand expects you to have some level of financial understanding and be savvy with web applications. Yodlee lacks quick a bit of polish, but where has the advantage is that is will graph both your Lending Club and Prosper account. I believe Yodlee snapshots your accounts daily which is what allows them to do this.
Lending Club Yodlee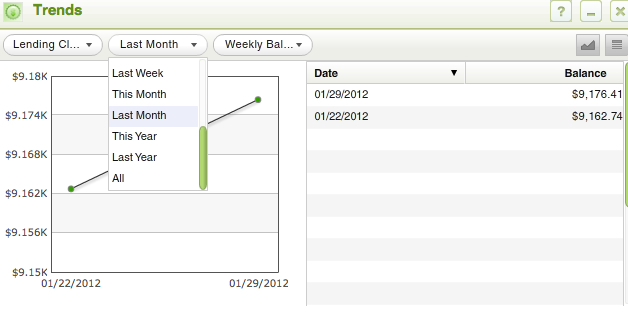 Prosper Yodlee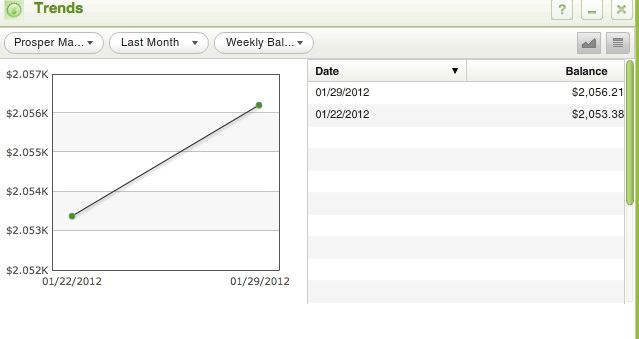 Which is Better?
If you want track long term growth of  both your account you will have to use Yodlee because Lending Club is not supported in a capacity that allows charting . Mint.com offers a superior interface and lot's of polish. Yodlee's interface is slow and doesn't offer ledger that Prosper on Mint does. If you are a Prosper investor Mint is wonderful for you. For Lending Club, a Yodlee account will assist you will balance tracking.