Since my last update I've added about $12,000 to my P2P lending accounts, split 50/50 between Lending Club and Prosper.
Lending Club
My portfolio continues to move towards my goal of a 50/50 split for loan term. Back in September of 2012 my portfolio was about 76% 60 month notes.  My ROI has been pretty stable around 12%, and according to the NSR Portfolio Analyzer it's 11.08%.
Right now you can get a 5 year CD  (considered risk free up to 250K) at 1.3%. Perhaps a poor comparison but illustrates that P2P lending is capable of out performing bank offerings handily. Even if you look at Junk Bonds which are paying about 7%, we're seeing solid, stable returns with very little volatility with a higher ROI.
Prosper
My ROI on Prosper has come down a bit from the 19% I saw last year, but it has come more inline with my realistic expectations. As you can see, even my seasoned ROI (excludes the last 10 months of issued note) is over 14%. Keep in mind though Prosper allows you access to interest rates over 25%, the current Lending Club cap.  These loans are considered higher risk, so of course there is the potential for higher default loss.   My current weighted average return for Prosper is 22.23% verse 17.58% on Lending Club.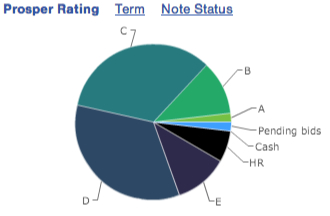 Conclusion
My focus for now is opening IRAs with Lending Club and Prosper. I won't be adding anymore cash to my taxable P2P accounts this year. By the end of the year my goal is to have my notes exceed $50,000.