I've added the ability to break down your ROI results by all major categories provided by Lending Club. This will allow for greater understanding of what is impacting your returns, and allow you to adjust, further reducing risk and boosting ROI. You'll notice that when you select the breakdown, the application will populate a table below, using all of your input criteria. The speed should be quite acceptable even though over 100,000 loans are being analyzed each time!
Additionally, the "Year" field has been removed from the left side filters. Long time users of the forecast utility recall that you were only able to filter on vintages by year. That has been removed in favor of a more discrete input field that now includes month and year. The month is inclusive, so if you want to isolate a year, say 2009, you would select January 2009 and December 2009 to get the full year of 2009.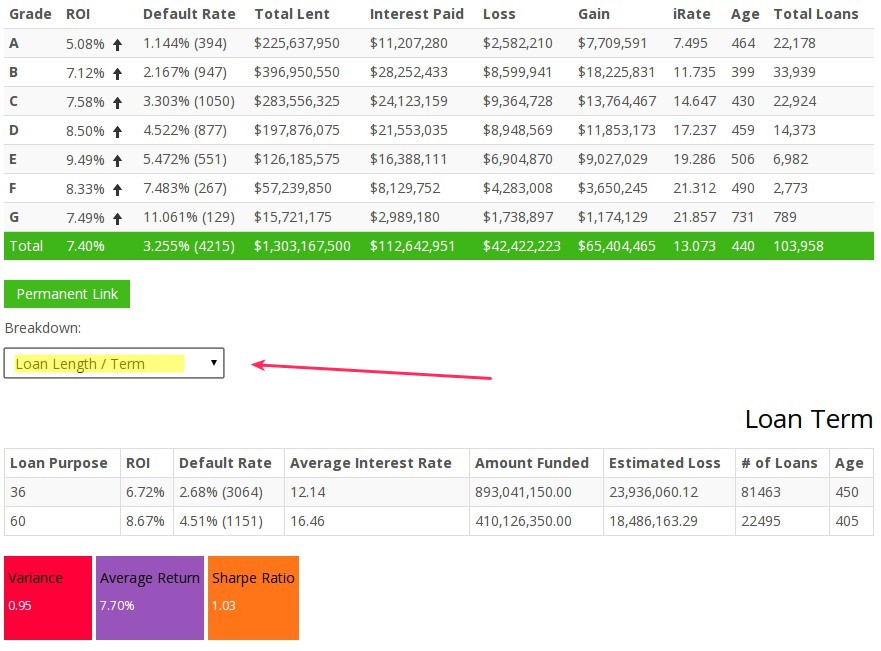 The breakdown results are actually the same results found at the Lending Club Stats page. In fact it's the same code, but now you can pre-filter the data using the additional filters on the forecaster to fine tune an acceptable filter-based investment strategy. You will notice that all break down results now include the age of the issued loan population (in days). This should give even more information in determining how accurate the results are.
This is an exciting change that I hope augments your understanding of how loans perform.
One last thing before you go. I'm working on a fun new addition to NSR that some of you might enjoy. I have written a touch tone phone interface for the "Daily Performance" found on the NSR landing page. If you would like to hear loan statistics over your phone, dial (414) 386-2283 and press 1 for Lending Club or 2 for Prosper.