Sorry, its been a while since my last post. I intended to do at least a few August updates, but summer is really coming to a close quickly. If you've been following my blog, you know that I set out two goals recently:
Bring my P2P investment total to 20K
Introduce low-risk notes to hedge
Both goals have been accomplished. I'm excited to report that my Lending Club and Prosper accounts have been meeting, and to some extent, exceeding my expectations.  At one point, I had about 9 defaults happen at once with Lending Club which I felt would have a large negative impact on my ROI, but it's already bounced back.  My Lending Club account is over a year old now (opened in April of 2011) and my Prosper account is close to 1 year old (opened in November of 2011).
Lending Club
This month I committed an additional $500 to bring it more inline with my Prosper account which has received $2000 in additional funding as well this month.  Take a look at my "My Notes at-a-Glance" you will see I've selected Amount for the display instead of note Number. I have $332 charged off due to default. When determining your net gain with Lending Club you should always take the Interest Received value at the top of the main page and subtract the charged off amount.
Taking a look at the NSR Portfolio Analyzer results shows a slightly different story, but still a very much welcomed one:

The NSR Portfolio Analyzer has discounted all of my late notes to give a better indication of how the account is really performing.  I believe this could be well into 12% ROI if I sold my B grade and C grade positions and only focused on D and lower (higher risk), but I am very happy as is. You will also notice my 36 month position have increased about 7% since July.  I'm trying to allocate my loan terms 50/50 with respectively to 36/60 month loans.  In the future I may consider focusing on D and lower (higher risk), but for now I will keep with my current investment strategy.
Prosper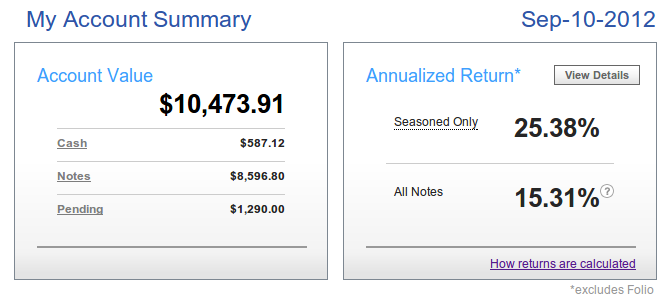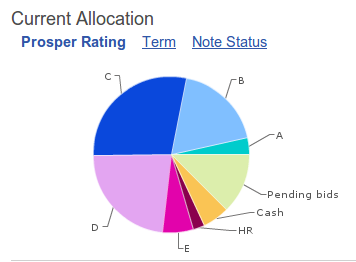 The returns on Prosper have been outstanding for me. I focus on C and lower (higher risk) for the most part. If I have a hard time finding notes I will modify my saved search to include B and sometimes A. My ROI dipped by about 1% from two months ago due to some defaults.
Confidence For New Investors
I didn't start out with my Lending Club or Prosper account completely funded. In fact I started with $2000 in Lending Club, a few times I even took money out due to fear in the beginning.  I continue to build confidence in P2P lending and continue to add money now at a fairly regular basis. My Prosper account started out with only $100! As the numbers continue to show growth, solid returns and a viable alternative investment I find it easier to allocate money to P2P lending with confidence.