I had my first defaults start to come in the last 30 days.  What's interesting about this is how the platforms calculate the ROI…  to describe it in one word:  "jumpy".  Meaning, you can have a ROI that varies by more than 1% once a default happens.  If your ROI was to be plotted with respect to time it would like a saw blade. I believe with the tools (LendStats, Nickel Steamroller, et al) we might be able to get the plotted ROI to be more like a wave, and therefore much more accurate.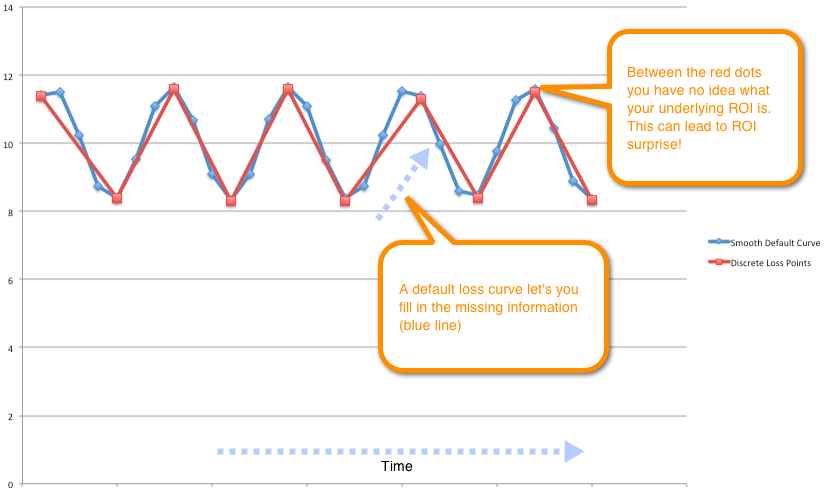 My main focus will be on Lending Club since they group everything that is 30-120 days late into one late group while Prosper has a status for 15 days late and every single month thereafter.
The LendStats method as you know will penalize late loans but it will only happen at discrete times (In Grace, 15-30, 30-120, and default) – admittedly Prosper is more granular.  I believe that a default loss curve could be constructed to give you a daily ROI value that would perform something like the following – "this note is 71 days late which means you are probably going to lose X % of remaining principal" (the 71 is just an example).
This information is impossible calculate with the Lending Club export as it. Only one new piece of information would be needed to open this new world of delinquency richness: days past delinquency.
Every late note in your portfolio has a level of "lateness". A note that is 31 days late and 119 days late are both grouped into the same level loss but they both have different probable losses.   Prosper exports daily status payment history in great detail, which could allow for this to be constructed.  I'm going to explore this further and see what it will take to convert the platform to this varied approach. I believe it will provide much more accurate ROIs for the portfolio analyzer.