There are many ways to measure growth of P2P lending. Of course we have hard data which make up the charts on NSR. But sometimes it's fun and interesting to look at other ways to measure growth.
Google web trends shows search volume for key words. Below is the trend for the phrase "lending club". As you can see there is an upward trend in the data, always a good sign!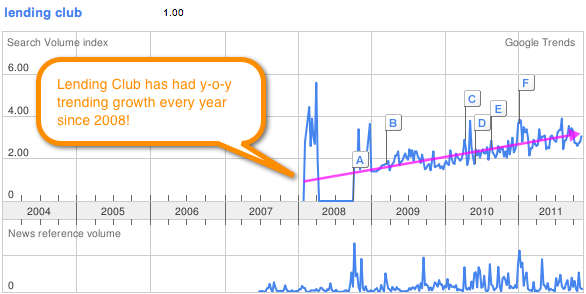 Unfortunately this does not work for Prosper because it's such a common word.
Attempting to search for Twitter trends, we don't have as much luck as the Twitter volumes are pretty low still with respect to @LendingClub and @ProsperLoans.

But today Lending Club was listed at Forbes.com #20 most promising American company. As you can see this was tweeted and re-tweeted quite a bit.
Curious how other phrases might be trending?  Check out http://www.google.com/trends and http://trendistic.indextank.com/